This Week's Can't Live Without List is a list of  5 fabulous frocks. I don't know about you but I am a dress girl. I love the instant femininity, charm, and curiosity a dress can bring. Take a look at some of the daring and darling dresses I've come across. Trust me, they'll make you want to show a little leg, wink wink!
Sparkle and Sass
by Johanna Johnson
What's not to love about a dress that glitters and is gold? I saw this dress and instantly fell in love with its sophistication and subtle sexiness.
Photo courtesy of Justin Bishop Vogue.com
This dress does everything right. It takes a bold animal print, in a  great maxi style cut, with a clean neckline tat begs you to keep looking up right into Jennifer Lopez's beautiful face. It's modest yet a bit naughty. Instead of saying prepare for attack, says come a little closer I won't bite.  While I don't have this great Michael Kor's dress, I did recently score an equally gorgeous animal print dress by Guess. Don't worry, keep perusing the  blog, you'll see me in it.  
Photo courtesy of Nordstrom.com
Sometimes it's nice to just put on a dress tat is simply light at and airy.  The top of the dress is adorned with embroidered detailing and the bottom, pleats that beg you to take a twirl once or twice in the mirror before stepping outside and letting it play with a summer breeze. Sometime, I like to keep it light, and this Ted Baker London dress does just that.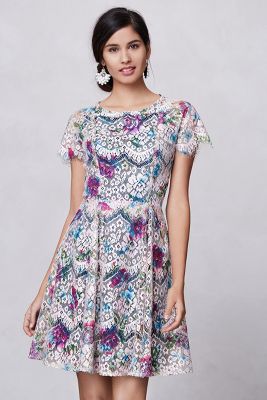 Photo courtesy of Anthroplogie.com
There is something about the lady likeness of lace and a soft floral design  that enchants me. It's delicate and demur which can be a total set up for the bold woman wearing it. Maybe it's that element of surprise. This dress, once I tried it on, I knew it was a winner. It's an A Line cut which flatters just about everyone, hits clean above the knee so you can show a little more leg, and works perfectly for Sunday brunch, and I heart Sunday brunch.
Photo Courtesy of forever21.com
I fell in love with the color mint last year and I've been falling ever since. Couple it with a strapless maxi style dress and ta da- effortless chic. Not to mention, so budget friendly, which means I can have more of the dresses I can't LIVE without. I bought this dress during a trip to San Francisco in March and guess what? It went back when I want back in May. 
What dresses are on your can't LIVE without list?